All I do is tile, tile, tile, no matter what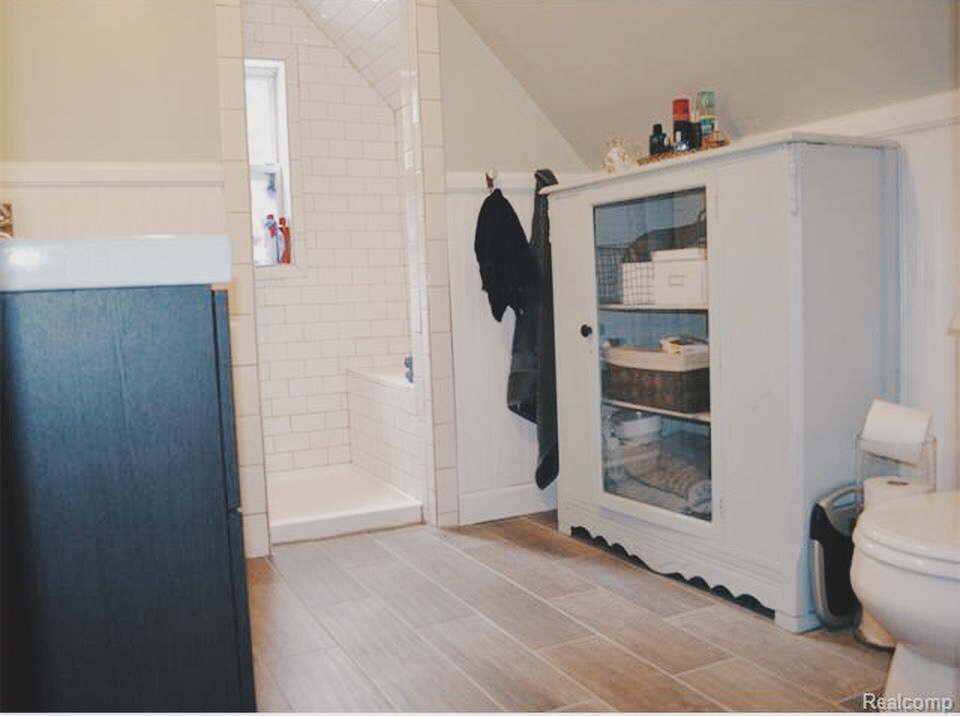 Seeing that it has been almost THREE months since we updated you on our *quick* bathroom renovation, we feel our loyal readers should probably be filled in on our progress.  Our bathroom renovation is complete (sort of) but there were so many things we learned along the way, we wanted to break this renovation into several posts.
When we last met, we had started demolition of the wall tile over Thanksgiving break.  Since we had the long weekend, we thought "Easy-peasy, demolition will be over by this weekend, backer board will be on the walls by Sunday and we can start tiling." WRONG. Do not for one minute think that the demo on those HGTV shows is realistic.  Demo SUCKS.  The hitting and destroying things part is really cool, but then the next day you have Stay-Puff marshmallow man hands and they will barely grasp a pencil.  On top of the pillow hands, the clean up part is the worst.  Every 5 minutes we had to stop to pick up chunks of tile/ concrete/ drywall and carry them down our carpeted stairs (guess how clean those are now?) to the trash.  Demolition continued all week after work each night, and we even had to enlist some big guns (who wished to remain anonymous in the blogosphere) to help us finish before the plumber was to arrive the next weekend.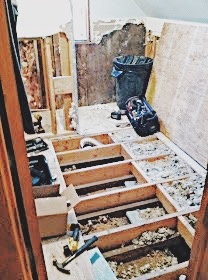 The plan for the plumber was to move our shower head from the short wall to the left side of our bathroom, as well as move the toilet line from the left side of the bathroom to the right side.  This would free up space for our double vanity and better utilize our floorplan.  The plumber also put in the shower base for us, which made us do a little happy dance because it gave us a visual of what our shower would look like shortly.  Ha.
The next week was dedicated to putting up the Hardie Board.  This is essentially the water-proof cement board that would go under our shower tile. Jeff was in charge of research on how to cut and install the board.  We started by using a box cutter with a carbide blade to cut the stuff.  We followed this video https://www.youtube.com/watch?v=3ULbcdphAls to a T.  Here is the result: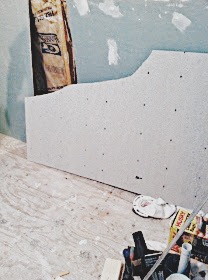 This happened multiple times and resulted in several trips to the hardware store. As you may have guessed, there was a lot of cursing this week, and in my delirium, I started singing the Barney theme song.  I changed the lyrics instead of saying "love," the lyrics were changed to "hate."  It looked something like this: Me- singing the modified Barney song to the Hardie board.  Jeff- rolling his eyes and hulk smashing more board.  Not my most creative moment, but it got my sentiment across.
We decided to take a break and do a little more research.  We realized that yes, we had to use a carbide blade to cut the board, but it had to be some fancy tool that had a hook to it, which would assist with the cutting.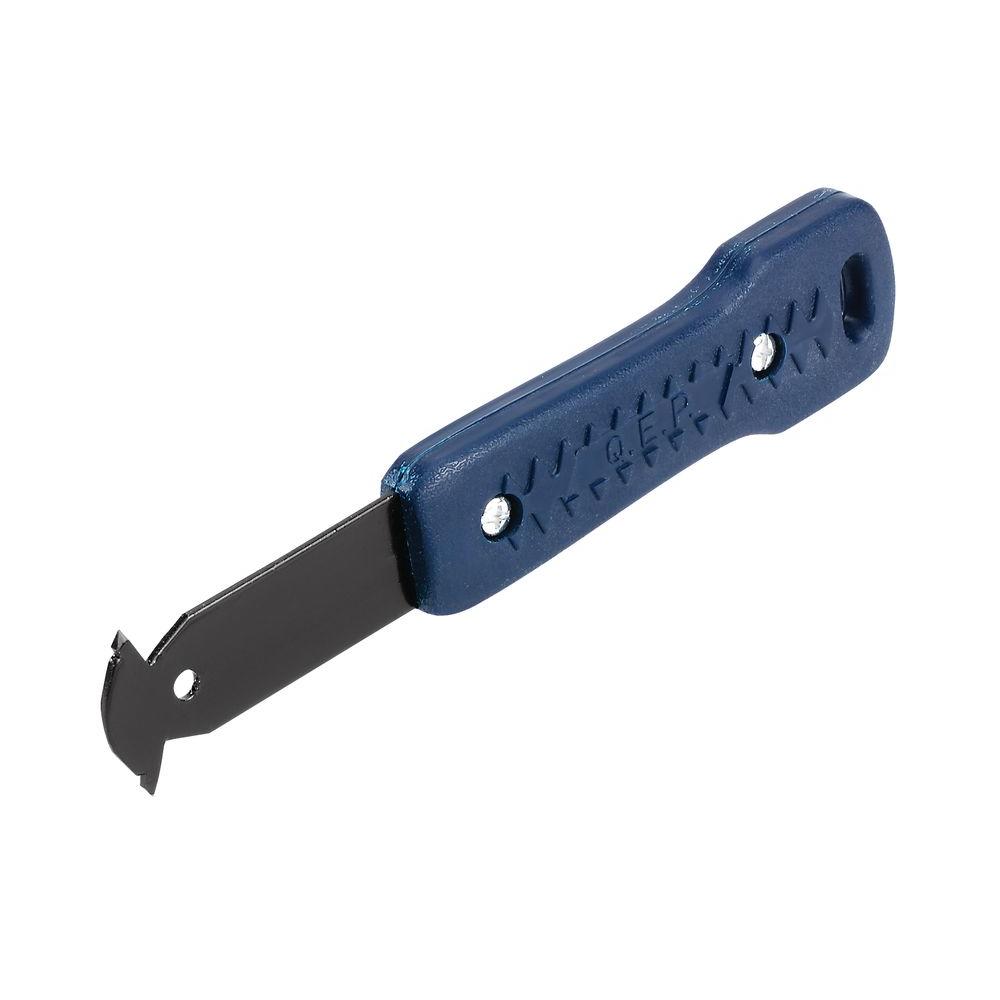 Once we had the appropriate tool, life was so much easier. We were able to get the rest of the board up and in place.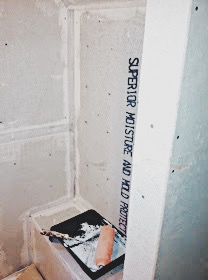 Once that was complete, we had to mud the joints in the shower so no water would seep in.  We allowed a day to dry and then it was time for the waterproofing.  All of our research revealed that using Red Guard in your shower would provide the best waterproof barrier.  This stuff goes on as a hot pink color and dries red (hence the name).  Once the first coat was dry, we had to put on the second and final coat.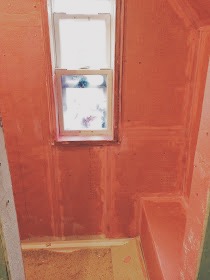 It was FINALLY time to tile!  In our design, we wanted our entire shower to be floor to ceiling white subway tile.  The shower space is about 8 x 3 x 8, so we needed multiple boxes of subway tile.  I am a bit of a perfectionist when it comes to symmetry and tiling, so the process was very laborious.  Jeff was on tile saw and mortar mixing duty, while I spaced out and mounted the tile.  This process took so long, we were still tiling as of Christmas weekend.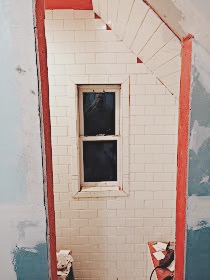 We decided that we wanted to have white subway tile and gray grout in our shower for a few reasons.  If we picked the wrong shade of white grout, it might look like we had super white tile and yellowing grout, and down the road it would show every unclean spot in the shower.  Jeff misread the directions on the grout and/or waited too long, and the grout would not come off with water and a sponge.  I was out of town, and told him to leave it for me to handle.  Unfortunately, we do not have a picture of the over-grouted walls.  I tackled the project with a scraper about this size: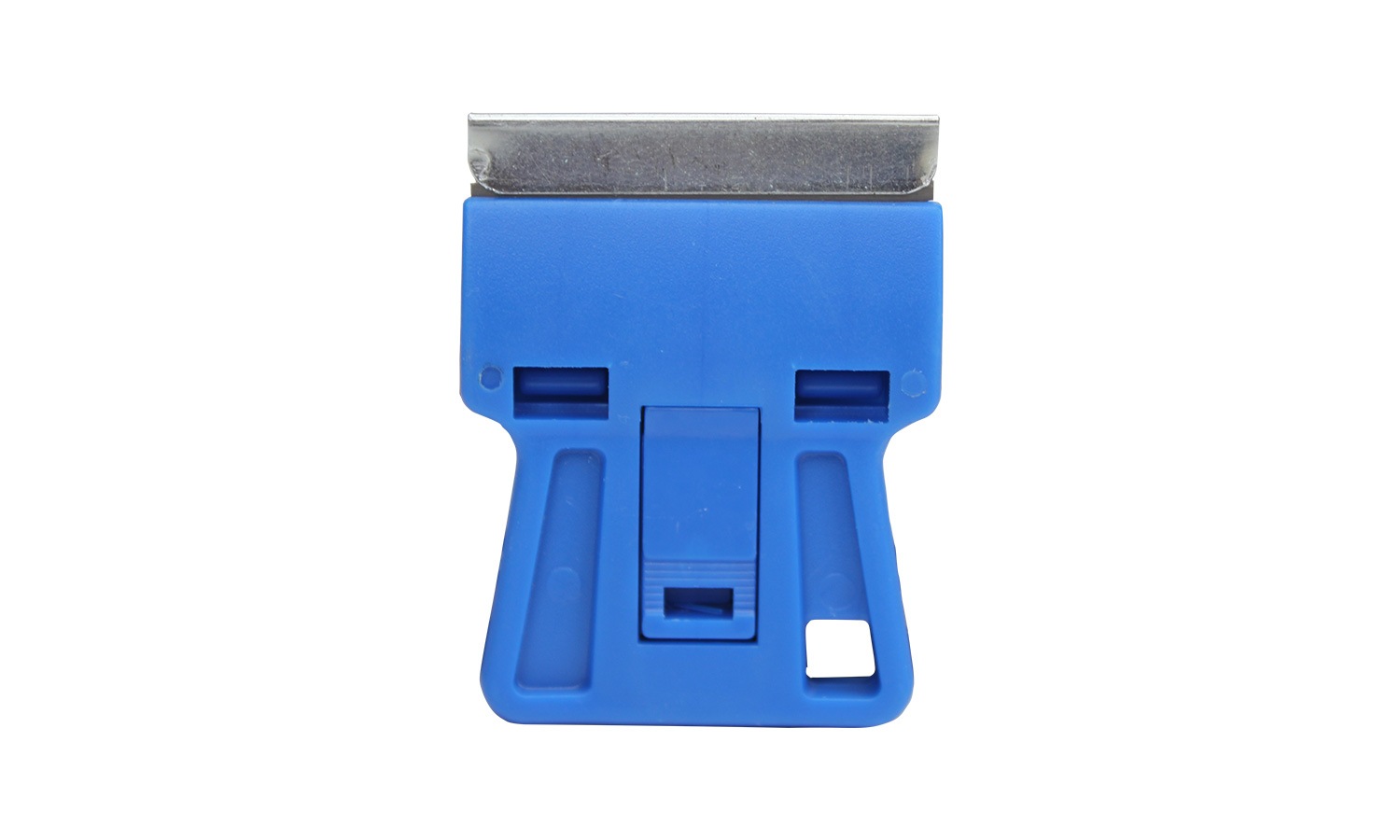 With "Orange is the New Black" set on my iPad, and a whole pot of coffee brewed, I spent the entire day in the shower scraping off grout. And I still wasn't finished.  But I did have a small desire to nickname someone Crazy Eyes.  It took a few more days of scraping to finish the project.  Once the grout was complete, it was time to seal it.  We used a spray grout sealer that is just spray and wipe.  This was probably the easiest step of the whole process!  Jeff installed the shower head and handle, and we were now ready to use our shower!!