Week 5 of Bathroom Remodel- We have a shower…almost
If you are just tuning into the Jeffrey Court Tile Renovation Challenge, you can check out weeks 1, 2, 3, and 4 here. We are in the final stretch of making over our outdated bathroom into a modern and serene bathroom.  This week was all about installation of both the shower doors and the vanity. Side bar, if I haven't mentioned it already, all of this DIY and installing is done by my husband and I, after working all day.  We don't have a contractor, it's just the two of us, muddling through each project.  So if you see my sweet husband- give him a pat on the back, or a fist bump, or even better…a beer.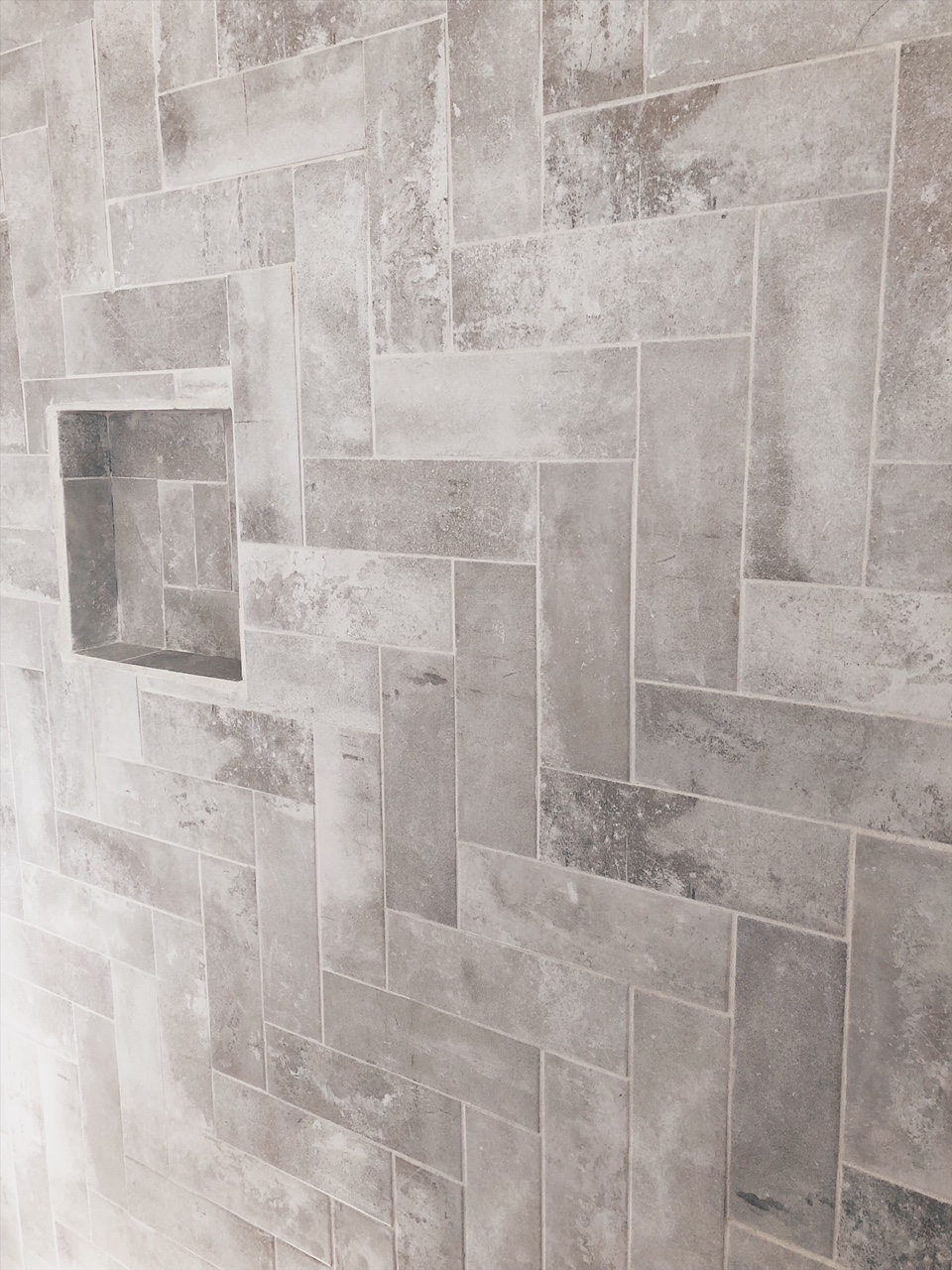 Installing the shower
The shower door kit that we bought did not come with the best instructions.  I can put together IKEA furniture like it's nobody's business, but these directions were THE.WORST.  The doors have to be installed into the walls, which, if you remember are covered in gorgeous Jeffrey Court Tile.  I definitely didn't want to drill into the tile.  What if we installed it incorrectly?  Famous last words.
We did.  I reread the instructions to see if we were the ones that messed up.  Nope.  The directions were super unclear.  Anyway, we had to redrill the holes and reset the shower doors, but they are up! I can't wait to be done with our super scary basement shower.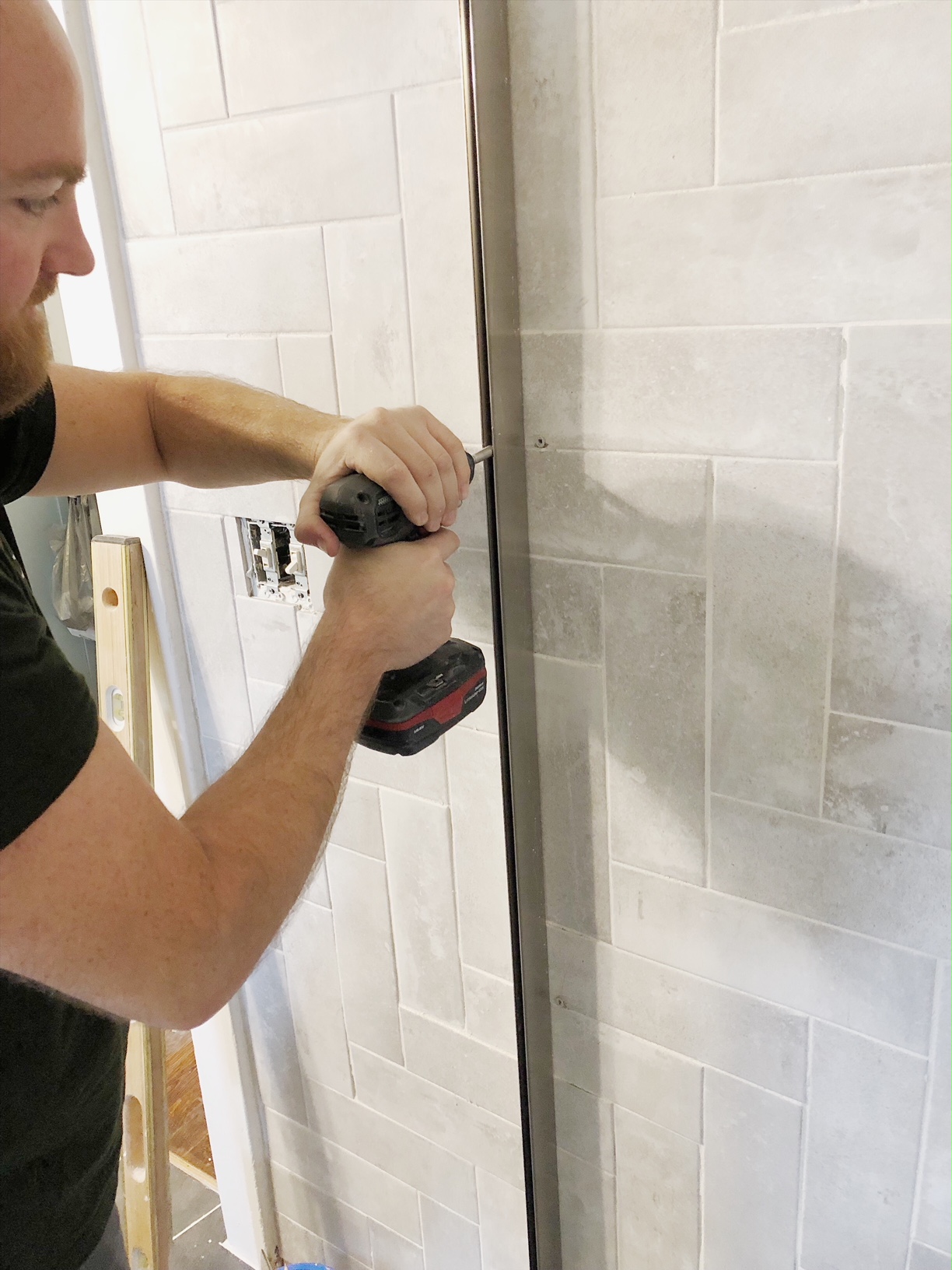 Installing the vanity
I searched high and low for a vanity that would compliment the uniqueness of the tile, but also have a classic look.  I found the Clemente Vanity from Home Depot and I was sold!  It was the perfect width for our bathroom, it has a great design, and it was in our budget.  We got it when it was on sale, though it seems to be back up to full price now.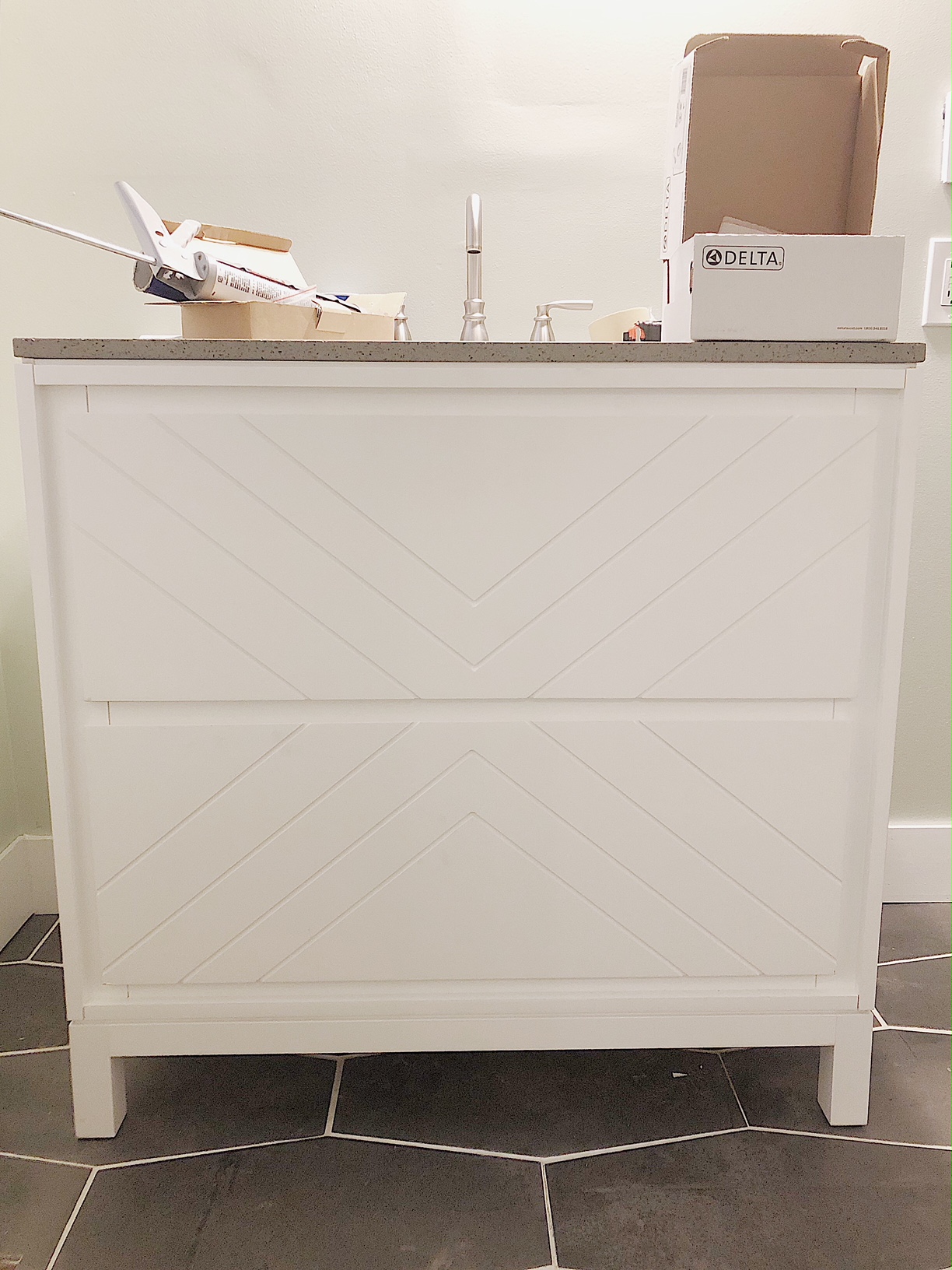 The thing I'm most excited for is the storage (Welcome to your 30's, kids!).  There was ZERO counter space on our pedestal sink, as well as ZERO storage under the sink, so this is a definite upgrade.  Bonus- the bathroom door doesn't hit it either!
Paint
The bathroom also received a fresh coat of paint.  After a poll on my Instagram, my followers were split 50/50 on my color choice.  I went with my gut and chose Livable Green by Sherwin-Williams. It's a muted sage color that makes the room feel calm and modern at the same time.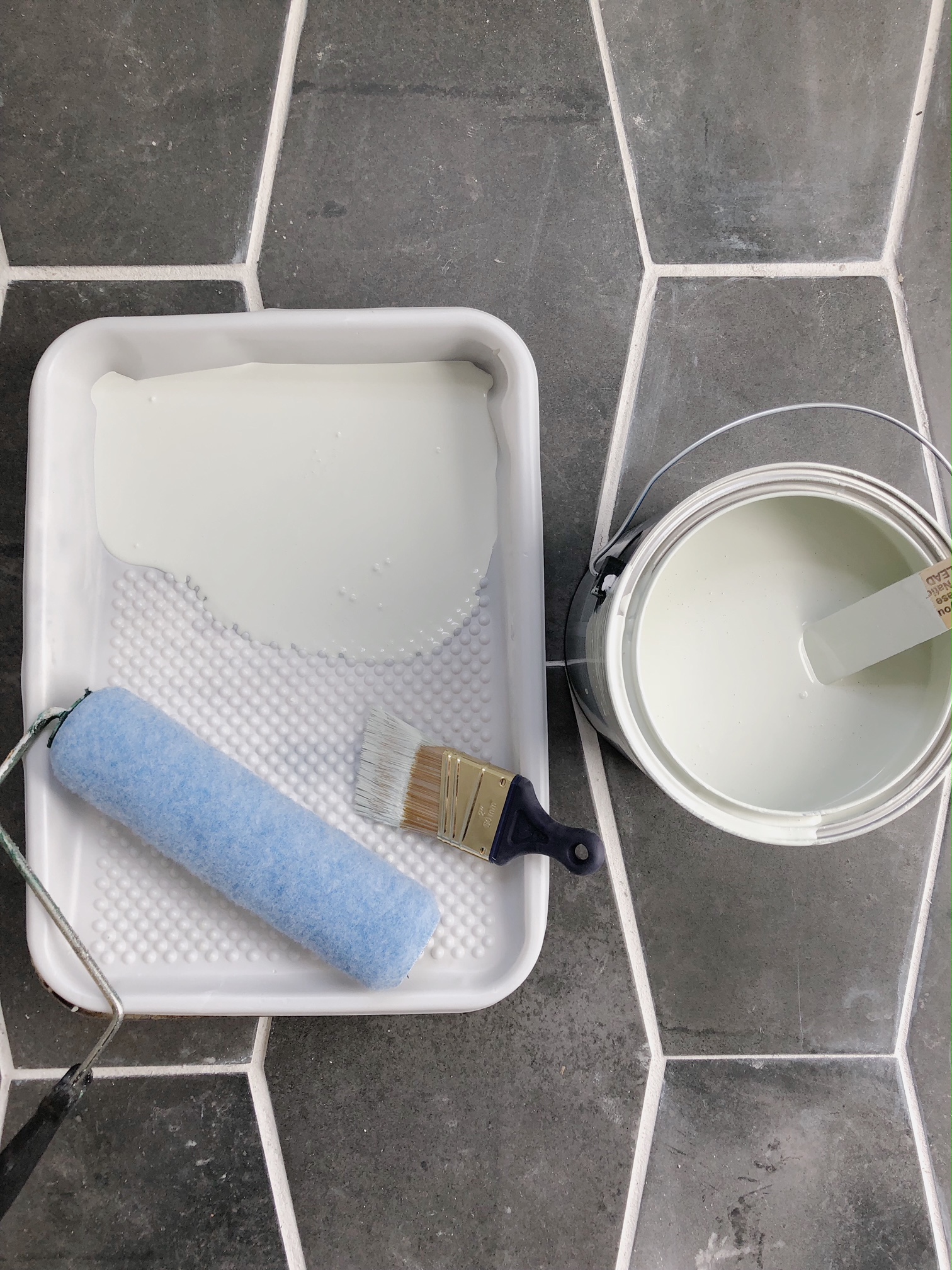 Once the paint dried, it was time to install and caulk the moldings.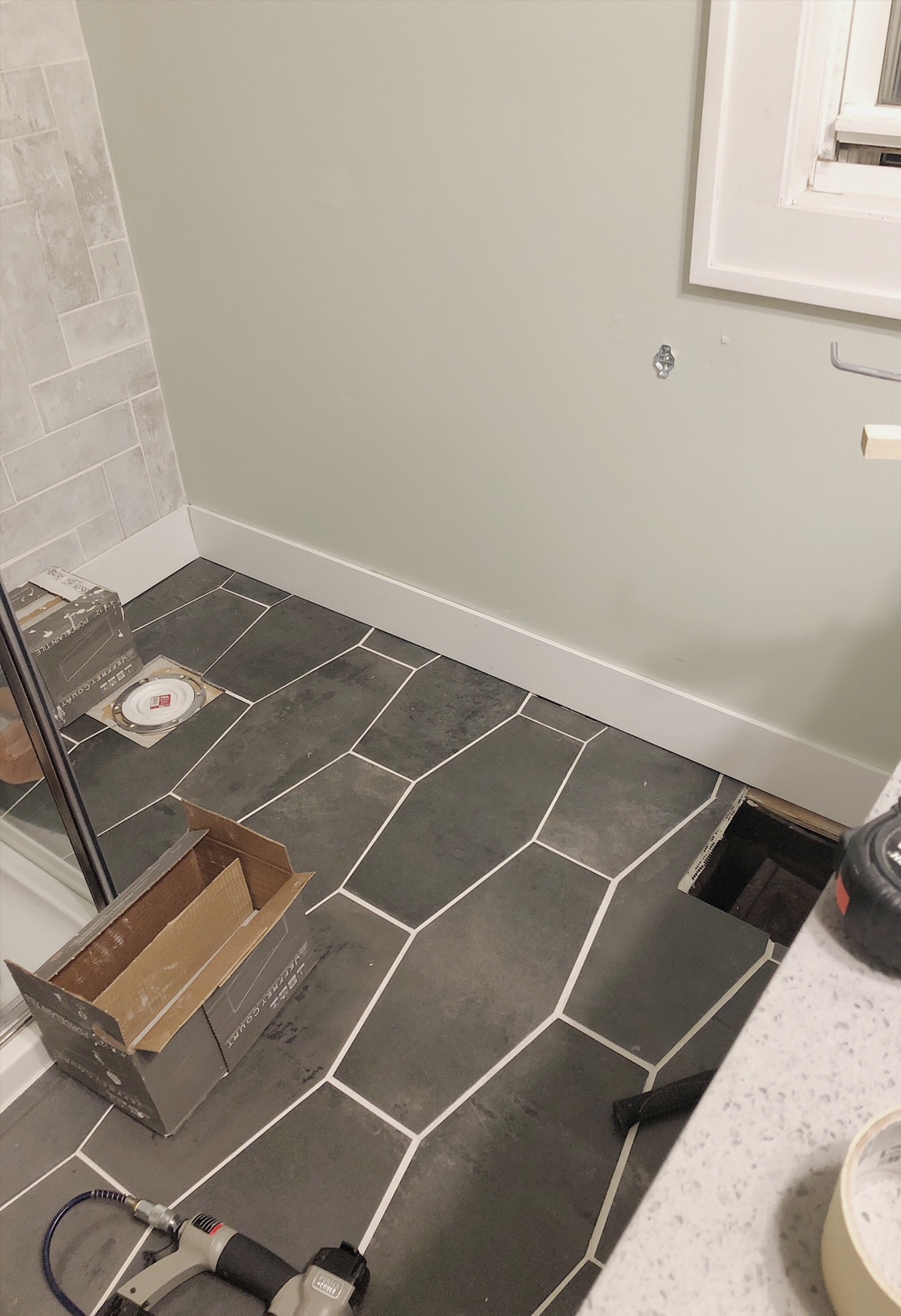 We only have one week left to wrap up all of the finishing touches.  Still on our to-do list:
Hang planters
Install shower head and handle
Move bathroom light fixture
Install the toilet
Accessorize!
Shameless plug: You can vote for me once a week per device.  Click here, then send it on to your friends! http://hd.jeffreycourt.com/renochallenge/
I can't wait for you all to see the finished product next week!