When in Rome…Our Favorite Travel Tips
Recently I was lucky enough to travel to the city of Rome with my husband and mother-in-law.  Although I am not a travel blogger, I did pick up a few tips and tricks that I wanted to share with you.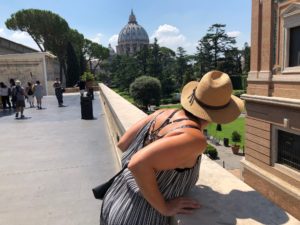 General Rome Tips:
One of my favorite things about Rome is the abundance of water available to the public.  When we went to Rome, it was 96 degrees everyday, so we definitely wanted to stay hydrated.  Roman aquaducts date back to 321 BC and were a very advanced way for Romans to get fresh drinking water across the city.  Bonus for us modern day travelers- there are public fountains all over the city!  We carried a Swell bottle with us wherever we went and refilled it throughout the day.  That definitely saved us a ton of money in water!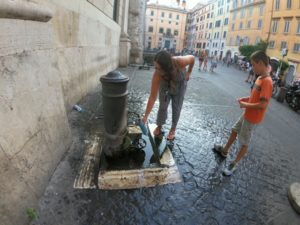 When thinking about traveling to Italy, you will probably consider what you will pack to wear.  Do not, under any circumstances, bring high heels or wedges or platform shoes.  The roads and alleys of Rome are all cobblestone. You will look foolish tottering around trying to look cute in your heeled shoes.  Pack comfortable shoes- you will thank me later.
If you are planning on walking everywhere in Italy, I would highly suggest packing a massage ball or a massage roller for your legs.  This saved our tired muscles from the 10+ miles a day we walked around the city.
If you are a history buff, or are just interested in Roman history, I would recommend downloading a few of Rick Steves' audio tours before you leave.  I think his audio tours were more informational than the ones we purchased through the different venues. Any pre-loading of knowledge (documentaries, travel vlogs, food travel shows) before you arrive in Rome is great because there is so much to take in when you are there, that it can be overwhelming.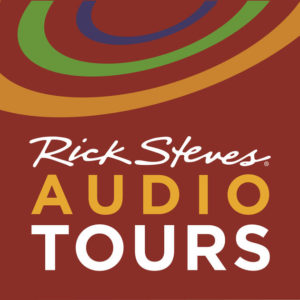 Definitely learn a few common phrases before you travel to Italy.  Most people in the tourist areas speak English, but it is common courtesy to greet Italians in their language. You are in their country after all.
Sightseeing in Rome Tips:
*Buy your tickets in advance for all major attractions.  Seriously, don't be cheap.  We bypassed the lines at the Vatican and the Colosseum and it was so worth the money.  Buy them in advance at home and print out your tickets to take with you.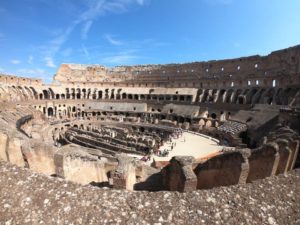 We did not buy tickets in advance to tour St. Peter's Basilica and it was the worst experience.  It was so hot, and there were hoards of teenagers in tour groups bumping up against each other in line, and you are standing in the direct sun.  Don't be cheap.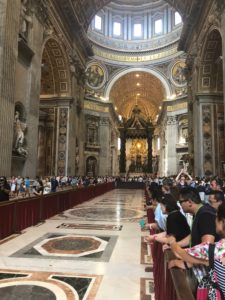 *A hop on- hop off bus tour will give you bang for your buck and will also help you get the lay of the land.  One of the bonuses of a bus tour is you can listen to the historical commentary as you ride around town and sight see.
Food in Rome:
This is the section you've been waiting for- admit it!  I have a lot of favorite places we visited in Rome, which I will detail below, but my best general food advice is to not eat too close to the tourist attractions. The food will be subpar and extra expensive.  Some our favorite meals were the ones we stumbled upon as we meandered down the alleys.
Prix Fixe Meal:
This was one of my favorite places to eat in Rome.  Picture a difficult to find tiny restaurant hidden between two streets with bistro lighting and a sweet old lady greeting you at the door.  Ristorante der Pallaro is a charming restaurant with a prix fixe menu for only 30 euros.  The only decision you have to make is red or white wine. You start with some cheese, meat, and bread, and the food doesn't stop after that!  Make sure you have cash though; Ristorante der Pallaro does not accept credit cards. I would recommend going here on an evening when you are near the Pantheon or Campo de'Fiori.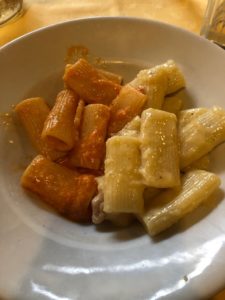 Gelato:
Gelato was definitely my favorite part of Rome.  The creaminess of gelato was a welcome respite from the oppressive heat of Rome.  One thing I loved about the gelato in Rome is that you are expected to get multiple flavors in your serving- so it's like getting multiple samples in one!  My favorite flavor was Nutella, but they were all super delicious. My grand total of servings on the trip was 11. I'm proud of that record.  While we didn't have a favorite gelato place, my rule of thumb was, "If there is a line for the gelato, you know it's good."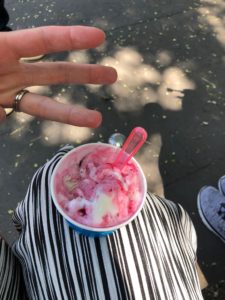 Apertivo:
You may not know this, but Rome has a secret fourth meal hidden during the day.  Since most Romans eat dinner late, they will often go out for apertivo, which is drinks and apps before dinner.  There are several apertivo locations throughout the city, but the one that was recommended to us was located in the Trestevere neighborhood. Freni E Frizioni has a cool punk rock vibe- the walls are painted a dark color and American rock music is pumping through the speakers.  You purchase a themed cocktail (some with fun names like The Machete or Jessica Rabbit) and your drink includes all-you-can-eat appetizers.  The apps are very carb-heavy, but it was definitely a great stop before heading out to dinner.  Freni E Frizioni definitely made us feel that we were living like hip Romans do.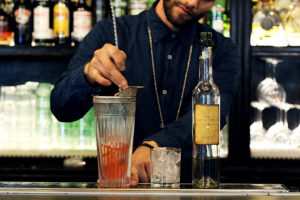 Bonci Pizza:
I would go back to Rome again just to eat this pizza, that's how good it is!  We heard about Bonci from watching The Layover with Anthony Bourdain.  He raved so much about this pizza that we had to try it.  Bonci pizza is a long, rectangular pizza with a variety of toppings to choose from.  You tell the person at the counter how much of it you want, they cut it with scissors and weigh it, then throw it in the oven.  It is literally the best pizza I've ever had.  AND as I was reading on their website, they have two locations in Chicago!  Chicago friends- you have to go!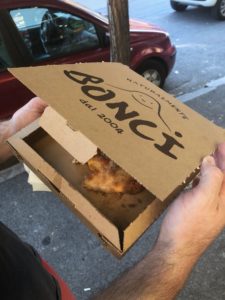 There are two locations in Rome, both of the west side of the Tiber River, so I would recommend going to Bonci if you are at the Vatican for the day.  It is well worth exploring that side of the city just to get a bite of the delicious flaky crust!
Airbnb Experiences:
We stayed in an Airbnb while we were in Rome- it was cost effective, there was air-conditioning (Are you picking up that it was stupid hot when we were there?), and it was in a true Roman neighborhood.  One of the benfits of Airbnb is they also offer experiences while you are in town.  They range from things like "Go for an early morning sight-seeing run" to "Gelato tours."  We decided to purchase an experience with a local chef and take a tour of Mercato Trionfale, the large indoor food market near the Vatican.  This was by far one of the coolest things we did in Rome.  We sampled so many different foods- from porchetta to pizza to cheese and gelato- all while drinking wine. The experience also included a home cooked pasta meal by the chef, which we did not do because we were so full from the tour!  I can't say enough about this…it was unbelievable!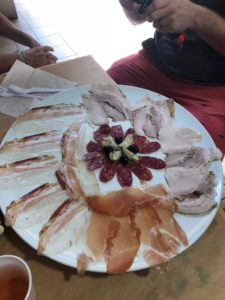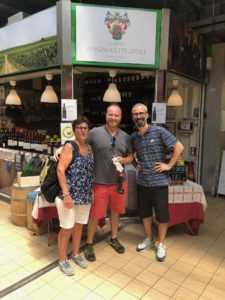 You can learn so much about traveling to Rome from a guidebook or a TV show, but sometimes hearing the nitty gritty details from someone you know can give you a better perspective.  If you stumbled upon this blog because you are planning a trip to Rome, you are in for the time of your life!  If you use one of these tips, make sure to tag me on Instagram @renovatingmaplesonmanor
Arrivederci!