Anthropologie-inspired Jewelry Organizer
Today's tutorial will a wooden jewelry organizer that will help corral all of your earrings and necklaces in a fun and fresh way!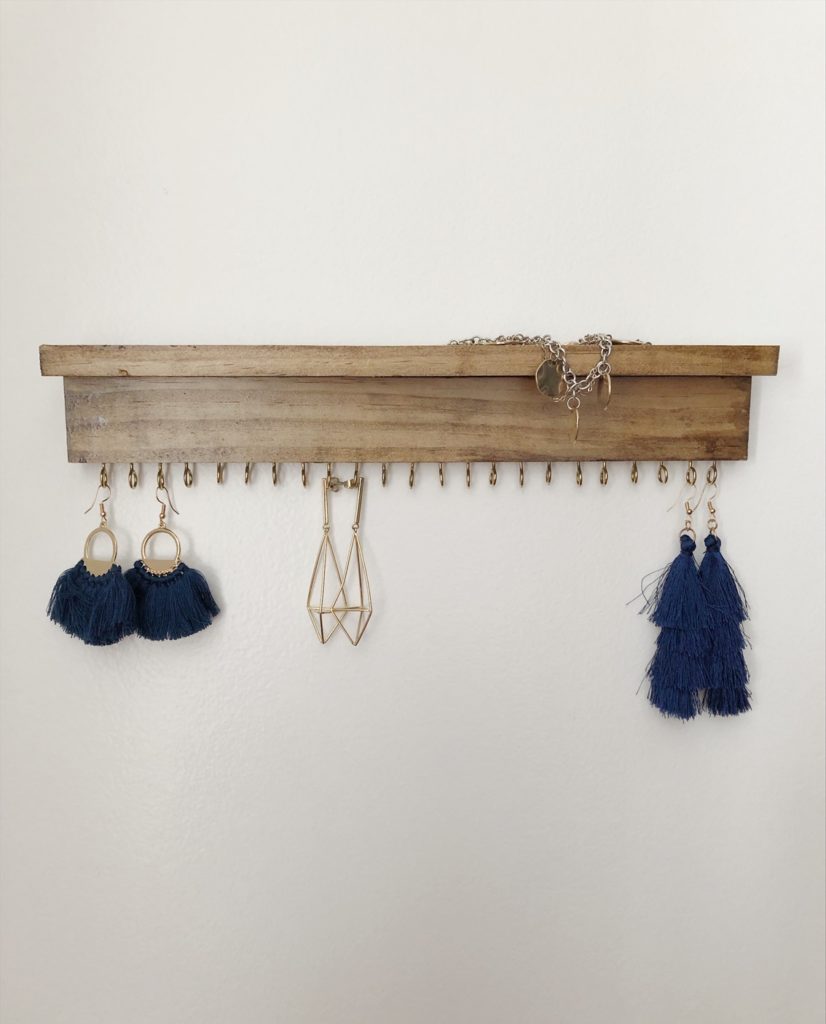 I have a fun DIY tutorial for you today!  This year a group of bloggers and I are creating monthly challenges for our readers.  We are calling it "At Home DIY."  Each month we have a challenge and this month's challenge was to create a DIY organizational project.  My earring collection currently sits smashed into a tiny jewelry box and they need some serious help.  I found inspiration from Anthroplogie's website with their Hanging Jewelry Organizer and thought, "That would be easy to make!" So I did!
Jewelry Organizer Materials
2 x 1/2 in wide wood (2 feet in length if making one shelf)
Stain
Polyurethane (optional)
Hanging hooks
Masking tape
Measuring tape
Wood glue
Nail gun
Sawtooth hangers
Jewelry Organizer: Cut
First, cut your pieces to size.  I cut them to one foot each.   Next, put a coat of stain and poly on each.
Jewelry Organizer: Assemble
Once your wood pieces are dry, run a bead of wood glue on the edge to hold the two pieces together. Once the glue is dry, use your nail gun to secure the two board together.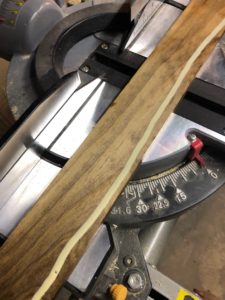 Jewelry Organizer: Add hooks
Take a piece of masking tape and tape it onto the bottom edge of the shelf.  Next, measure every half inch and make a mark on the tape.  This is where your hooks will go.  I had a hard time getting the hooks to go into the wood right away, so I made a starter hold with a thumbtack at each marking.  Add in your hooks along the edge.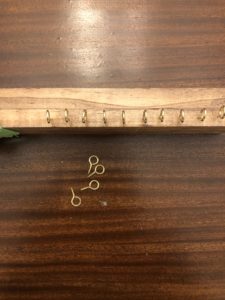 Jewelry Organizer: Hang
Add two sawtooth hangers to the back of the shelf and hang.  Now you are ready to accessorize your shelf!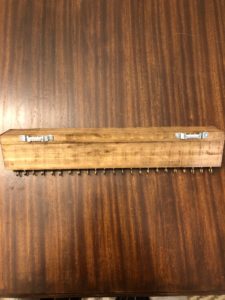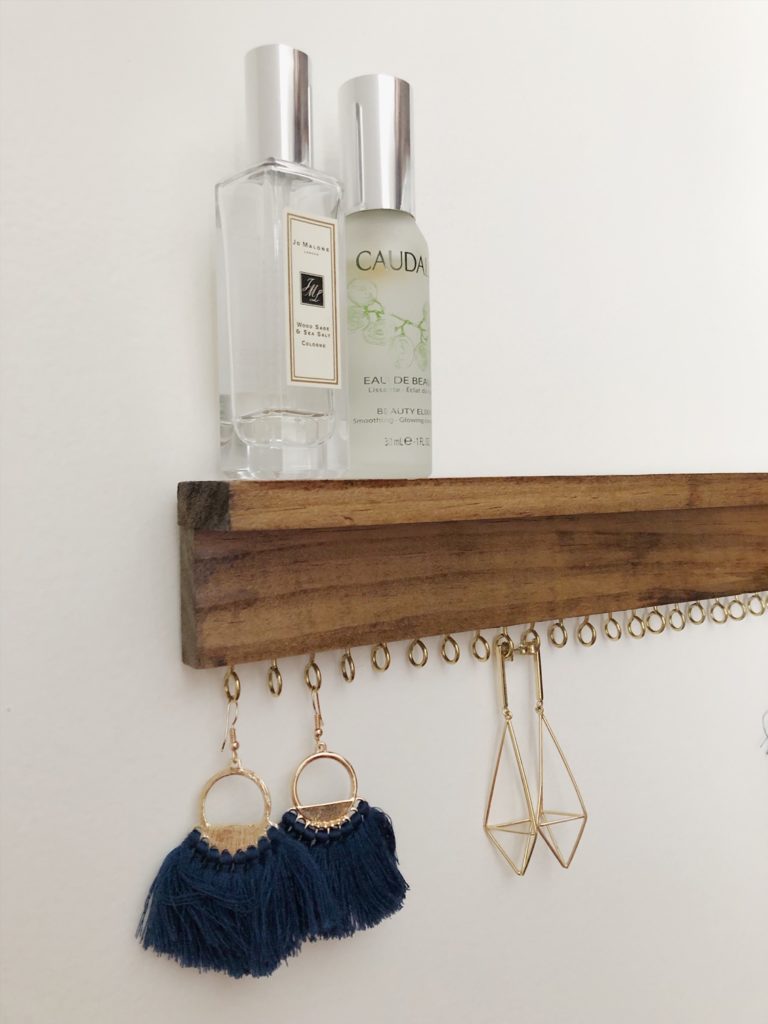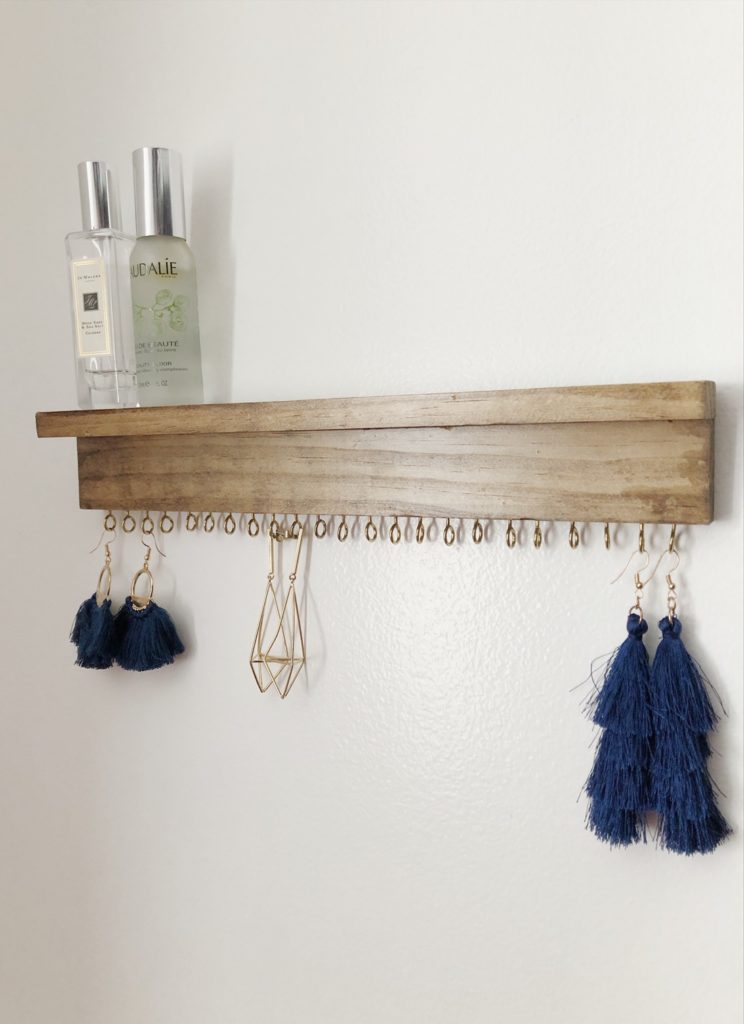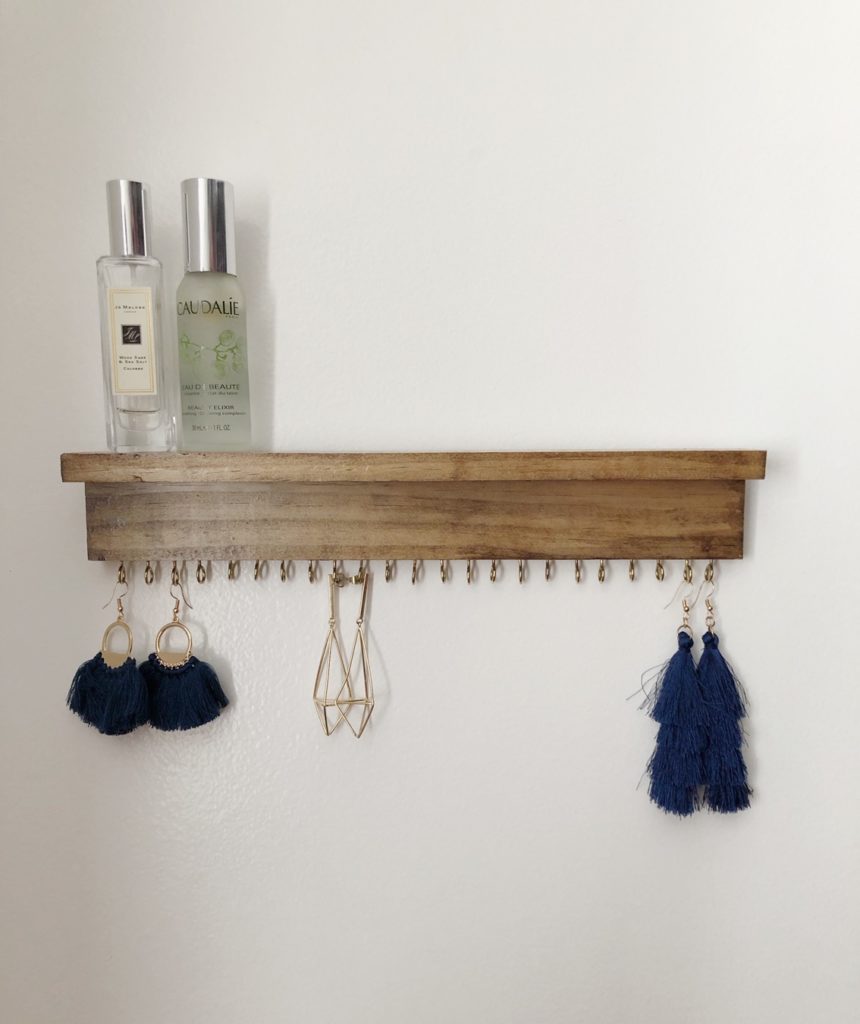 Interested in my other DIYs? Check them out here: DIY Projects
"
1905 Farmhouse
,
Abbots at Home
,
Bitterroot DIY
,
By Brittany Goldwyn
,
Creative Ramblings
,
Cribbs Style
,
Delicious & DIY
,
DIY Beautify
,
DIY Danielle
,
Dukes and Duchesses
,
Girl, Just DIY
,
Happily Ever After, Etc
,
Health, Home & Heart
,
House by the Bay Design
,
House on Longwood Lane
,
Just Measuring Up
,
Kenya Rae
,
Little Bits of Home
,
Living Letter Home
,
My Kitchen My Craft
,
Pinspired to DIY
,
Red Cottage Chronicles
,
Refashionably Late
,
Renovating Mapleson Manor
,
Savvy Apron
,
Shine Your Light
,
Shrimp Salad Circus
,
Songbird Blog
,
Southern Revivals
,
T.Moore Home
,
The DIY Dreamer
,
The DIY Village
,
The Frugal Homemaker
,
The Handyman's Daughter
,
Two Feet First
,
What Meegan Makes
,
Zucchini Sisters