Decorating for Your Tween Girl
Decorating a nursery or a toddler room can be pretty easy; you only have to worry about the adults' opinions in the home.  When your little girl becomes a tween (usually between 9-12 years old), you now need to take her opinion into consideration.  Tween girls want their room to feel grown up, and they definitely don't want anything too babyish. Sometimes their ideas can be a bit, can I say, gaudy?  So, what do you do when your daughter's design aesthetic is a little over the top?
Paint
Just because your daughter loves Barbie pink or lime green does NOT mean that you need to paint the walls those colors.  My teenaged room was lavender with yellow trim.  What was I thinking? I prefer to use a neutral wall color, such as white or a gray, and use the bedding and accessories for the color.  By the time your tween turns into a teen, her favorite color will change. Do yourself a favor and paint the walls a neutral color.
Bedding
Bedding is where tweens can make a statement.  If they love a particular color, search for that color of bedding on Pinterest for a few inspiration photos.  This can be a joint effort between both parent and daughter.
Artwork
Artwork for your tween's bedroom is where the real personalization comes in. Take a trip to Home Goods and find some artwork or wall hanging that is trendy with the kids.  Add a little whimsy with a lightbox where your daughter can change the message to suit her mood.  If you're looking for a real deal, look for free printables on Pinterest.  Sunshine and Hurricanes has some cute, free motivational prints for teens.  Or, for just a few dollars you can print some off from Etsy!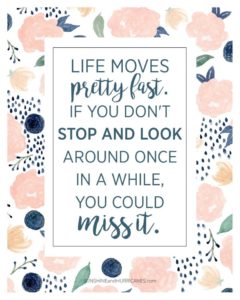 Storage
As in any child's room, you need to have storage to contain all of the clutter.  I would start with a bookcase and add a couple of colored storage boxes in the room.  Work with your child to label each box so she knows what goes in each.  IKEA is my go-to for inexpensive, but cute storage containers.
Reading nook
If you want to be a "cool" parent, you have to get your daughter a comfortable chair for her room.  This could be as simple as a couple of bean bags, or a hand-me-down chair that has a slip cover over it.  This will be the hangout spot when her friends come to visit, and the place where she will read for hours.  Feeling fancy? Hang a sheet around the bean bag and string up some white Christmas lights!
Study area
Depending on the size of your daughter's room, you may also need a study area.  One of my favorite pieces of furniture for smaller spaces is a leaning shelf/ desk.  Your daughter can use the desk for homework, but the shelves are usable for all of her mementos.  Personalize it by picking up some desk accessories that coordinate with her bedroom colors.
Removable wallpaper
My last tip for decorating your tween's room is to use removable wallpaper.  Trends will come and go and removable wallpaper is easy and inexpensive enough to work during this transitional phase.  Is your daughter really into butterflies?  There's a wallpaper for that. Glitter? They've got you covered.
Need some help envisioning how to put all of these ideas together?  I'd love to help!  Click HERE to let me know how I can help you either virtually or in person!