Amazon Couches Under $1000
Buying a couch can be a drag.  You have to trudge on down to the big furniture retailers with your significant other surreptitiously checking his phone the whole time.   Whenever you walk in, the sales staff hounds you to buy something.  When they see the two of you, it's like a hot guy walking into a sorority house- he's fresh meat.  You can't show the slightest amount of interest in a couch without having to listen to a spiel about the 40 fabric options available.
One time, Jeff and I were at a store and the salesgirl said she would leave us be as we shopped, and she was legitimately hiding behind a pole watching our every move!  Needless to say, couch shopping is a drag.  But, good ol' Amazon is coming through to help you with all of your couch shopping needs…on a budget!
Amazon Couches under $1000
For those of you who prefer to keep the color in your accessories and want a neutral colored couch, the Tov Furniture velvet couch is a great buy at only $750.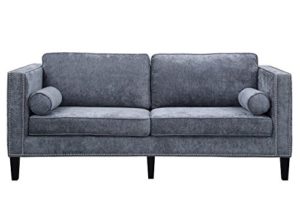 For a true babe on a budget, my design crush, The Novogratz, have the Brittany Sofa Futon for only $219, and it comes in multiple colors: navy, linen, green, dark gray, gray, blue, mustard, and pink. The couch also comes in a sectional version as well!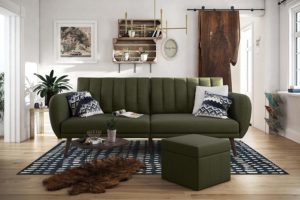 I am LIVING for this channel tufted blue velvet sofa.  I can picture sitting on this with a whiskey sour with extra cherries as I read a newspaper while wearing oxford shoes and a very chic outfit that was not purchased at Target or Old Navy.  It's a very specific daydream, but it's mine.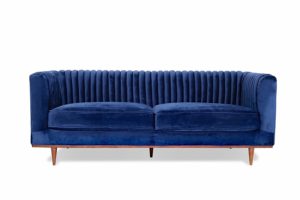 If you are in need of a sectional, the Poundex sectional in Laguna is a great size at a great price: $688.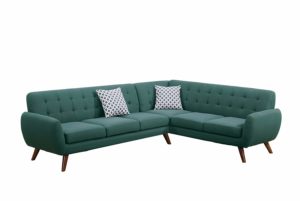 Don't have room for a sectional, but have room for a chaise?  The Divano Modern Sofa comes in multiple colors and has a modern nailhead trim detail.  Bonus: it's less than $400!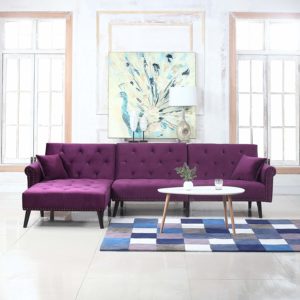 Need some help choosing the perfect couch for your home?  Contact me here to set up an in-home consultation or e-design!